We Process Evictions for Howard County
Steps to Evicting a Tenant in Howard County
Within our Coverage Area to process evictions: Yes
Rental Licenses Required to file for eviction: Yes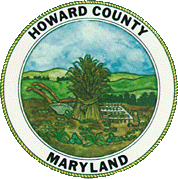 Zone 2
To file a case for a tenant failure to pay rent in Howard County is $285.
For that you will get:
● Prepare and file the "Failure to Pay"
● Send a collections letter to your tenant
● Go to court on your behalf 
If you are ready to start the eviction process and submit the information to us about your case, click –GET STARTED
COUNTY INFORMATION
County Website:
County Hotline: (410) 313-8000
District Court:
3451 Courthouse Drive
Ellicott City, MD 21043-4377
Agency which handles Rental Licenses

Department of Licenses & Permits – (410) 313-2455
Department of Inspections – (410) 313-1830
3430 Courthouse Drive
Ellicott City, MD 21043
How to get a rental license

Since 1965, Howard County Housing Inspectors have enforced Housing Code standards by inspecting and licensing rental housing units.
When Is A Rental License Required?

Every dwelling or dwelling unit in Howard County which is not occupied solely by the owner or owner's immediate family must be licensed. A license is also required if more than one boarder, roomer or renter occupies the dwelling with the owner or the owner's immediate family member. This requirement applies whether or not rent money changes hands.
Rental licenses ensure that the County Property Maintenance Code standards are met. The requirement applies to apartments, hotels, motels, assisted living facilities, individually owned condominiums, duplexes, mobile homes, single family homes and town homes.
What To Do Before Applying

Out–of-state owners must designate a local agent.
Make sure sleeping areas located in the basement or any other area of the unit meet egress requirements. Generally, an operable exterior window meeting certain minimum dimensions for rescue and ventilation is required in every bedroom.
Check/Install Smoke Detectors-If a house was constructed with a/c wired (electrical 115 volt) smoke detector, they must be maintained throughout the life of the dwelling. Each level of a single family dwelling is required to have one smoke detector per level. These smoke detectors may be a/c wired or battery powered or a combination of both. In addition to smoke detectors installed on each level of the dwelling, each bedroom must have one smoke detector (either a/c wired or battery type) installed inside the bedroom near the doorway. All smoke detectors must have a test button that can actuate the detector for testing purposes. Tenants/owners are advised to test and clean their smoke detectors monthly. If the smoke detector is battery operated, batteries should be changed once a year. After 10 years, a build up of dust and dirt can affect the sensor in your smoke detectors. It is recommended that you replace any smoke detector (a/c wired or battery) after 10 years. If you are unsure of the age of a smoke detector, the date of manufacture is usually on a label affixed to the back. Call 410-313-1830 for more information.
How to Apply And What To Expect

A property owner or authorized agent of the property owner may request a Rental License Application by mail, on line or at the Department of Inspections, Licenses and Permits counter located at 3430 Courthouse Drive, Ellicott City, Maryland 21043.
After the owner or agent returns the completed application with the required fee, the Department sends a letter requesting that the responsible person contact the Housing Inspector to arrange an appointment for inspection of the unit.
Rental License Duration

Licenses are issued for a two year period.
Owners/agents must notify the Department if the property is sold, becomes unoccupied, or is reoccupied by the owner during the term of the license. Additionally the Department must be notified of Management Company and/or Agent changes. All information must be current including addresses, telephone numbers and other contact information for the owner and management company.
Schedule Of Fees For Licenses
Apartment Complexes (Includes technology fee): $93.50 per unit
Motels, Hotels, Dormitories, Roomers, Sheltered Care (Includes technology fee): $55 per room
Single units such as single family detached, single family attached, individually owned, condominiums, duplexes, mobile homes, house sharing, (Includes technology fee): $93.50 per unit
For the text of the Howard County Rental Housing and Property Maintenance Code Local Amendments
Landlord Tenant Section of Howard County Sheriff Office – click here.
Download Alarm Registration forms for Companies here
Howard County Sheriff Department Landlord & Tenant Section
We Provide Eviction Services for Laurel
We Provide Eviction Services for Jessup
We Provide Eviction Services for Fulton
We Provide Eviction Services for Dayton
We Provide Eviction Services for Highland
We Provide Eviction Services for Woodstock
We Provide Eviction Services for Scaggsville
We Provide Eviction Services for Daisy
We Provide Eviction Services for Peach
We Provide Eviction Services for Savage
We Provide Eviction Services for Ilchester
We Provide Eviction Services for Hanover